Using Fast CPU Models in C Platforms
It is very easy to use the Fast Processor Models in C platforms.
A brief introduction is provided on the OVP website library pages. Available platforms range from simple core+memory (Click here to see the OpenCores OR1K example) through to platforms that boot full operating systems, such as the ARM Versatile Express booting Linux (click here for more information):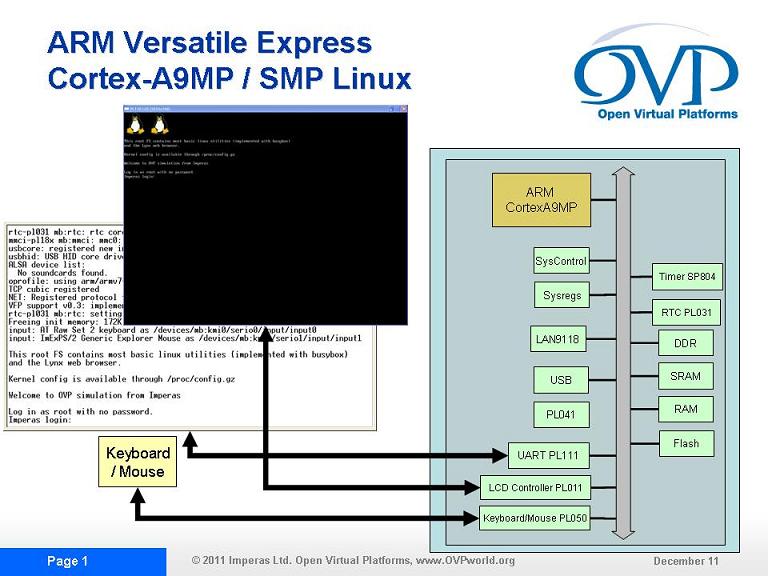 To see some videos on using C platforms have a look here: www.ovpworld.org/demosandvideos.
The Fast CPU Models come as a binary shared object and are called up in your C platforms using a variety of simple API calls. The basic are instancing a model, loading the application, and running. There are many examples available for download on the OVP site.
A good place to start for information is the Simple Single-Processor Platforms section on the OVPsim and CPUManager User guide.
If want to use ready built platforms, for example that provide models of a MIPS Malta or ARM Versatile Express platform, then please look at OVPworld downloads, browse the platforms in the OVP library, or look at the Imperas Extendable Platform Kits (EPKs).
if you want a very simple platform that instances a Fast CPU Model with fully populated memory and runs cross compiled programs with semihosting of calls like printf, then look at the Imperas ISS product.
---
Currently available Fast Processor Model Families.